Jacob Swirl Roving    $3 per ounce

This roving is made from jacob sheep.  The black spots were separated from the white background and then made into striped roving.  Roving is roughly 50/50 white and black wool.

Dark Jacob Roving    $2 per ounce

This roving was made from my delaine merino and dorset cross sheep.  The wool is perfect for spinning into yarn for soft, warm socks

Only six ounces left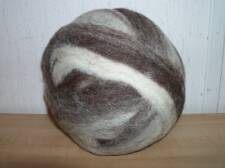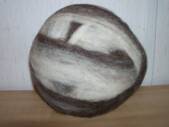 Note:  this is different sides of the same four ounce ball of roving.