Humbug Farm

Holly Springs, NC 27540

Kate Shirley, Shepherd

Ph. (919) 557-0471       email: Kate@humbugfarm.com

Humbug Farm was established in 1993.  The name is a play on sheep (as in baaaa humbug!).  Since its beginning the farm has grown in both livestock and acreage.

Humbug Farm raises Border Leicester sheep for show and sale.  Of course, by-products such as wool, lamb, and finished goods from their renewable fleeces are also available.

Humbug Farm also raises Nubian and Saanen dairy goats for milk.  I've fallen in love with cheesemaking.  Currently, I am experimenting with flavored chevre.  I do make some savory flavors, but I'm having fun expanding my line of fruit flavored chevre.  It's great used on sandwiches in place of mayonnaise.

Farming on a small scale (less than 50 acres) is far from an exact science.  Seasons, weather, current sales, breeding time and coyotes all cause product availability to change from week to week.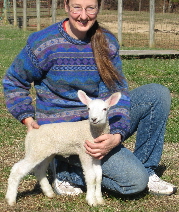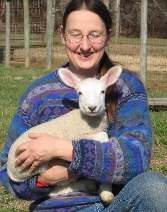 As of May 20, 2011  ALL sheep & goats two years of age and older are test negative for OPP/CAE

Here I am pictured with a young lamb.  It all started with sheep.  I love them!   

Sheep are why my farm is named "Humbug Farm"....as in baa Humbug!

Later on, I added horses, briefly had cows, and then fell in love with dairy goats.  Those rascals are fun to watch and handle.  Their milk is quite tasty, too!

I'm teaching a basic goat milk soapmaking class at the

Carolina Fiber Festival at the Lions Club Fairgrounds in Sanford, NC

April 5-7th (Friday through Sunday)

(I won't have a booth here, but can bring pre-ordered soap with me)

You can find me at HerbFest

located in downtown Cary at the Page-Walker Hotel

119 Ambassador Loop, Cary, NC 27513

Saturday, May 4th

9 am until 3 pm

I'm also planning on being on the Carolina Farm Stewardship Association's Farm Tour

September 14th and 15th (Saturday and Sunday)

1 pm to 5 pm both days

Farm Fest 11

At Rising Meadow Farm, 3750 Williams Dairy Rd, Liberty, NC 27298

Sunday, September 29th

11 am - 4 pm

Goats for sale!   Due to health issues in my family, I'm cutting way back on the number of goats.  There will be some really nice goats offered for sale.  Some will be suitable for a commercial dairy, others for a home use dairy.   Lots of color to choose from.  Some registered crossbred (saanen x nubian) and some registered purebred nubians.  All are very healthy.  All of my livestock that were two years and older were tested for OPP/ CAE and Johnes.  All are test negative!

Some goats are available now.  Others will become available as babies are weaned.  Feel free to call or email to make an appointment to come see the goats.  Not all goats will be pictured on the site due to lack of time.

Sheep for sale!   Sheep will be available starting in late July.