Humbug Farm

Holly Springs, NC 27540

Kate Shirley, Shepherd

Ph. (919) 557-0471       email: Kate@humbugfarm.com

Humbug Farm was established in 1993.  The name is a play on sheep (as in baaaa humbug!).  Since its beginning the farm has grown in both livestock and acreage.

Humbug Farm raises Border Leicester sheep for show and sale.  Of course, by-products such as wool, lamb, and finished goods from their renewable fleeces are also available.

Humbug Farm also raises Nubian and Saanen dairy goats for milk.  I've fallen in love with cheesemaking.  Currently, I am experimenting with flavored chevre.  I do make some savory flavors, but I'm having fun expanding my line of fruit flavored chevre.  It's great used on sandwiches in place of mayonnaise.

Farming on a small scale (less than 50 acres) is far from an exact science.  Seasons, weather, current sales, breeding time and coyotes all cause product availability to change from week to week.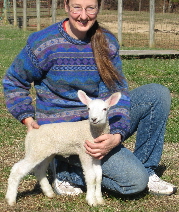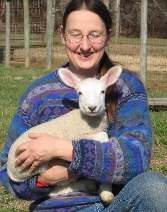 My farm is a working farm and not open to the public for tours.  If a customer makes an appointment to come by to pick up their purchase of soap, wool, etc. of course you are welcome to stop and see the livestock.

Awesome goat milk soap and wool products can be ordered via my website and shipped to you or you can stop by my booth at any festival listed below.

Here I am pictured with a young lamb.  It all started with sheep.  I love them!   

Sheep are why my farm is named "Humbug Farm"....as in baa Humbug!

Later on, I added horses, briefly had cows, and then fell in love with dairy goats.  Those rascals are fun to watch and handle.  Their milk is quite tasty, too!

Thank you to all my customers who support

Humbug Farm & Mooning Goat Dairy

If you'd like to purchase soap, yarn, or blankets you can pick up from the farm by making an appointment (weekends only).

You can also schedule a pick up at any event that I'm going to.

If you are not local, I ship soap, yarn and blankets. 

Email me for details.

Christmas in July @ the Coats Senior Citizens Center

Saturday, July 18th              10 am to 3 pm

214 Park Ln, Coats, NC 27521

Harvest & Hornworm Festival @ the Duke Homestead Living Museum

Saturday, September 12th              10 am to 4 pm

2828 Duke Homestead Rd, Durham, NC 27705

Family friendly festival helps to support the museum

Harvest Festival @ Stagville State Historic Site

Saturday, Setptember 19th              10 am to 4 pm

5828 Old Oxford Highway, Durham, NC 27712

Farm Fest 13 @ Rising Meadow Farm

Sunday, September 27th              10 am to 5 pm

3750 Williams Dairy Rd, Liberty, NC 27298

Shhh...don't tell anyone, this is my absolutely favorite festival of the year.  They'll be sheep herding demonstrations, sheep, alpacas...good food, Homestead Creamery Ice Cream (yes!), great music, and lots of wonderful vendors, including me!