Humbug Farm & Mooning Goat Dairy

Holly Springs, NC 27540

Kate Shirley, Shepherd

Ph. (919) 557-0471       email: Kate@humbugfarm.com

Goat Milk Soap

I started making goat milk soap shortly after getting my first goats.  I grew up with severe allergies to the commercial detergents used for bathing.  My hands would crack and peel so badly that I didn't have fingerprints for much of my childhood.  This was very painful and embarassing.  The doctors prescribed some expensive hand creams and bath products.  Little did I know that all I needed was good old fashioned SOAP.

Most people haven't noticed that many of the bath products sold in the stores are actually detergents.  They smell great, lather under almost any conditions and often have emollients added to them to counteract the harshness of some detergents.  For those of us with allergies or skin sensitivities, this can be a nightmare.

In case you are wondering if the current bar of cleaning product you are using is soap or detergent, look on the label.  Legally, it can only say "soap" if it meets the FDA definition of soap (see next paragraph).  Most detergent based products call themselves "beauty bars", "bath bars", "moisturizing bars", etc.

Soap, as defined by the FDA (Food and Drug Administration) is simply "alkalized fats".  This means that fats/ oils have been exposed to an alkaline substance which converts the fats/ oils into SOAP.  Plain old everyday soap.  What should be left after the chemistry is done is soap and glycerin.  There should never be excess lye (NaOH) left in the soap!  This renders it useful only for removing paint, in my opinion!

I've never wanted to do things the basic way, so I've added some goodies to my soaps to make them feel even better.  The results are soap that I think smells good, feels good yet is still good SOAP.  It's sole purpose is to clean you.  My goal is to have it make you feel good, too.

Oh, and my soaps are vegetarian/ humanitarian friendly.  I use goat milk in my soap as I feel that goat milk adds that extra special richness to the soap.  My goats are spoiled rotten.  If you are in doubt about this, please click on the "goats" link up above and read about Wasabi, the gold plated goat.  You don't do that for a goat unless you are a true animal lover--and a little crazy.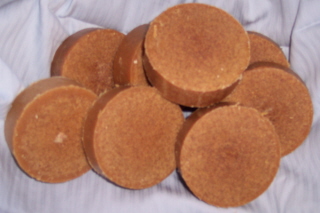 Goat Milk Soap

For those of us who like fine handcrafted items.  Each bar of soap has rich milk from my own goats.  I use only vegetable oils and fats for my soaps such as olive oil, coconut oil and palm oil. I then add ground oatmeal and raw honey from a local farm.

I chose to make them round because I feel it is more comfortable in my hands.  And I like to be different.

Cost:  $5 per bar

3 bars for $14

Current Scents

(underline = 100% essential oils or no scent added)

Apple Jack A festive combination of apples, oranges and a hint of vanilla. 

Black Tea  a very smokey scent with undertones of a really good black tea

Blackberry Vanilla A luscious blend of blackberries and vanilla, yet not too sweet

Dirt  Smells like a fresh plowed field after a spring rain; yes, it smells just like dirt.

Eucalyptus Spearmint Cooling and clean smelling.  Definitely a "pick me upper". 100% essential oil

Gardenia  An accurate scent of gardenias; very rich fragrance it's one of the few florals I make.

Green Tea Refreshing and subtle; a good unisex scent.

Jasmine & Grapefruit Red grapefruit with the smooth scent of Jasmine.  Nice balance of fruit and floral.

Lavender Classic women's fragrance. 100% essential oil

Lemongrass & Sage  A friend suggested this to me and I'm so glad she did!  A new favorite. 100% essential oil.

Maine Woods Evergreen woods at their finest.  Light scent in the bar, but gets bolder when in the shower. 100% essential oil

Mystic A rich new age scent.  Known as 'Dragonsblood', but my customers didn't like the name :)

Oatmeal & Honey This soap has no added fragrance.  Smells like the ingredients of oatmeal and honey.

Patchouli Mint Nice blend.  The heaviness of the patchouli is nicely balanced with the light crispness of spearmint. 100% essential oil

Roasted Chestnut Rich sweet scent of roasted chestnuts, brown sugar with warm buttery overtones.

Rosemary Lavender  The spicy scent of rosemary is enhanced by the rich bulgarian lavender. 100% essential oil

Sandalwood  A smooth deep sandalwood scent.

Spicy Lime This is what a clean man should smell like.  Great men's fragrance that women go crazy over.

Stress Less  A mix of citrus with the soothing background scent of chamomile

Sweetgrass Sweet with a green freshness and slight smoky overtone.  Many Native Americans used this herb for purifying ceremonies.

Warm Spices Warmly scented with cinnamon and cloves and a hint of pumpkin. 100% essential oil

How do I order soap?

I have not set up a shopping cart on my website yet, but I will gladly ship soap.

I charge a flat rate of $6 for shipping anything or any combination of items from my website.

You have two payment options: 

1)  Paypal: This option lets you pay for your order by credit card or from your checking account through Paypal's secure website.  I never have to see your information (other than shipping and order details).  

Just email me a list of your order and I can send you an invoice via Paypal.  Once payment has cleared, I will package up and ship your soaps to you.

2)  Personal Check:  For those who are not comfortable using the internet for money transactions, I do accept personal checks. 

Make your check payable to "Kate Shirley" and mail it to: 

Kate Shirley

6512 Rex Rd

Holly Springs, NC 27540.              Once check has cleared, I will ship your order.